Located about a 40 minute foot walk from Zermatt, Zum See offers a home-like atmosphere and serves excellent gourmet cuisine with traditional and Mediterranean dishes and fine wines. Salads and vegetables from our gardens and homemade pasta, desserts and Ice Creams are waiting for you! 
OPENING HOURS
SUMMER 2024
June 20 – October 6
Serving lunch every day from 12 noon until 17:00 Private events in the evening on request
WINTER 2023 – 2024:
December 8
until mid-April 2024
Serving lunch every day from 12 noon until 17:00 – Private events in the evening on request 
About Us
Restaurant Zum See is run by Markus and Marion Mennig, who are proud to serve their guests traditional and honest cuisine served with lots of love. The restaurant is located in the beautiful namesake hamlet above Zermatt.
We will pamper you in the restaurant (70 places) or on the sun terrace (120 seats) of the 350 -year-old chalets in a homey atmosphere, with views of the Matterhorn and the magnificent mountain world of Zermatt.
We offer an exclusive menu comprising a wide variety of dishes such as delicate meat, fresh fish, homemade pasta, desserts, local wines, and more. Why wait? Make a reservation with us and enrich your stay in Zermatt with a feast for your taste buds.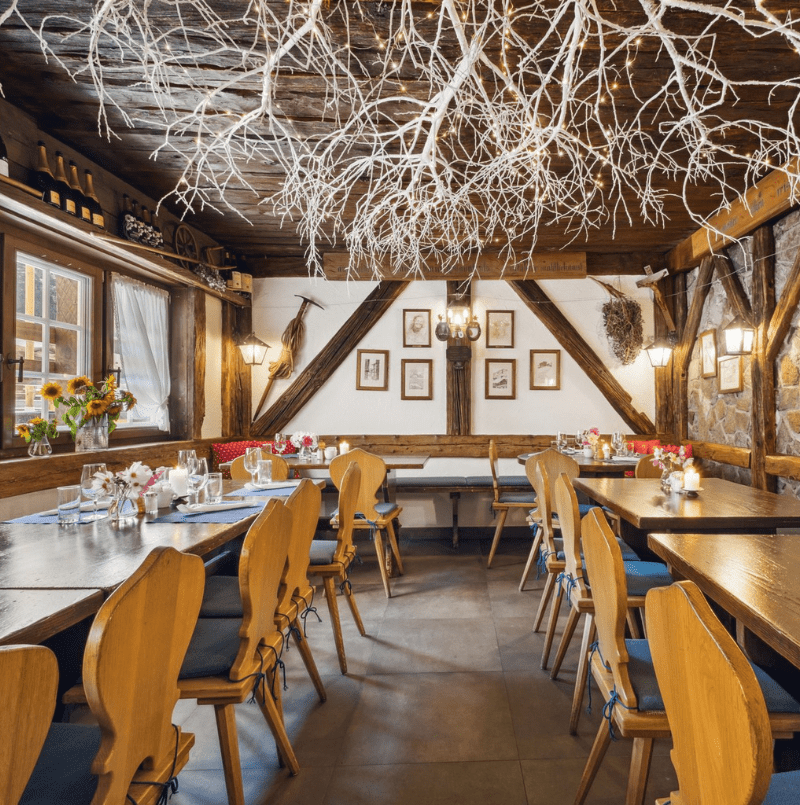 Wines & Other Beverages
At Zum See, we're all about celebrating the best of what Switzerland offers. Our extensive wine list that features more than 40 carefully selected wines from around the world. Whether you're looking for red or white, we've got something for every taste.
We take great pride in our selection of Swiss wines, but that doesn't mean that lovers of French and Italian classics will have to be disappointed. Every season, we add new and varied local specialties and Italian and French jewels to our wine list so that you can try something new every time you visit us!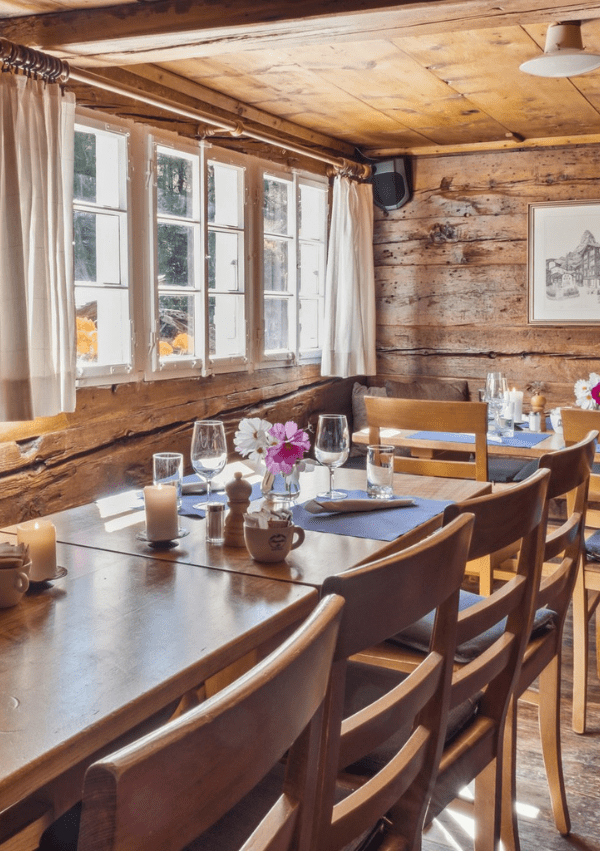 Planning for a Private Event? Contact us!
Zum See is the perfect place for your next event. Whether you are celebrating a wedding, a baptism, a birthday, or any other type of special occasion, we are here to help you plan it out.
We can customize our menus to suit your tastes and preferences and ensure everything is done carefully with great attention to detail. We look forward to working with you!
For special Events, please contact us via Email info@zumsee.ch
Book your seats with us and enjoy an unforgettable experience at Zum See!
Make a Reservation
Whether you are celebrating a birthday or an anniversary or just want to enjoy a lunch with friends and family, we look forward to welcoming you to Restaurant Zum See. Please book online. 
SERVING LUNCH EVERY DAY FROM 12:00 NOON UNTIL 17:00 – PRIVATE EVENTS IN THE EVENING ON REQUEST

Testimonials
Customer reviews and feedback is what keeps us going. Take a look at what customers have to say about us.
Sehr leckere Speisen und wunderbar gelegen.
Tout simplement délicieux!
Geniales Restaurant mit Flair dass man erlebt haben muss. Etwas teurer, aber lokale Spwzialitäten mit Geschichte…
Alexander Keller
2022-09-21
amazing meal in a idyllic location. staff was extremely kind and friendly. dining in zermatt can be expensive - zum see is definitely worth it.
Wir sind nach einer Wanderung dort eingekehrt und hatten Glück, ohne Reservierung einen Platz zu bekommen. Das Personal ist sehr freundlich und das Essen ist Spitze! Wir haben in mehreren Hütten gegessen, während unseres Urlaubs, es war überall gut.....hier war es herausragend.
Un incontournable à Zermatt, qu'on y vienne pour skier, pour marcher ou juste pour manger, il faut s'arrêter à Zum See. Tout est excellent dans ce magnifique restaurant situé au cœur d'un hameau pittoresque.
Ein wunderschöner Ort. Suuuper nette Leute und das Essen, meeega lecker.
Gallery
Browse through our gallery and get a first taste of what Zum See stands for!